Welcome to Katrina's page.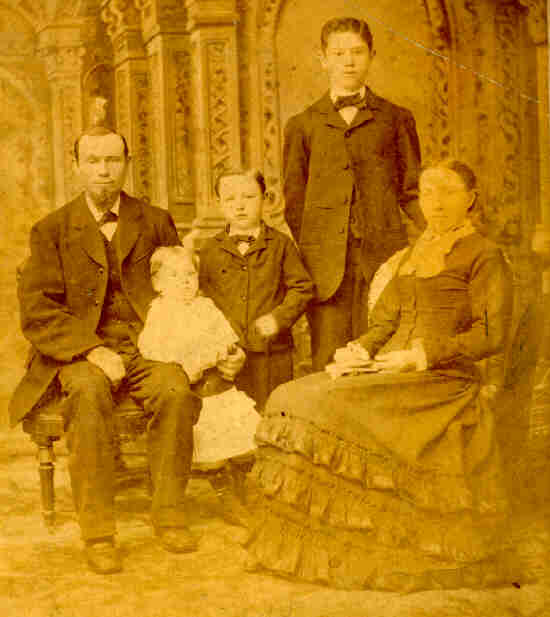 "Taken about 1883 at Hazleton, Pa. From left to right: Wm A. Knies, Lydia Esther Knies, George Knies, Wm. Knies and Katherine Hoffsommer Knies". Image e-mailed 10/10/97
With the help of Herb Sweat we now have added a "missing link" to the Hof/fsommer 'saga'. Up until now the available information on Katrina's ancestry was available only to the descendants of her older brother John George Hoffsommer, who's youngest son Jacob Charles Hoffsommer wrote the "book" in 1951 (refer to an abbreviated portion elsewhere on this web site).
In updating that 1951 treatment we were unable to link Catherine with any descendants. We didn't expect to be able to, but we were somewhat surprised to miss her in the census records. As it turns out the ship's manifest gave her age incorrectly. We guessed at the time she had died (the Hofsommer family does not appear in the 1860 census in Hazleton, but does in 1870).
As it turns out she had married (probably sometime between 1865 and 1866) and had started her family with William Knies. Unfortunately, Katrina died in 1888 at the age of 43. She is buried in Hazleton. Her husband remarried (estimated 1892) and appears with his second wife in the 1900 census.
The most recent common ancestor for Katrina's descendants, then, becomes Johannes George Hofsommer, born in 1805 in Mitterode.
Again, as with the Casper Hofsommer addendum to this site, I've deleted birth/marriage specifics for those individuals who are still living, or for those whom I have no death information on but who could be alive (under 100).
---
DESCENDANTS OF: Johannes Georg Hofsommer 10-Aug-1997 PAGE 1
* Johannes Georg Hofsommer #345 b. 30 MAR 1805 d. 21 DEC 1878 m. 10 AUG 1828 Anna Elisabeth Bomhard #346 b. 13 AUG 1801 d. 7 FEB 1852
. * Anna Catharina Hofsommer #347 b. 16 APR 1826 m. 6 SEP 1840 Johannes Heinrich Fey #348 b. 10 JUL 1820 d. Abt. 1864 . . m. _____ Dietrich #349 d. Abt. 1865
. * John George Hoffsommer #351 b. 16 MAR 1829 d. 16 AUG 1911 m. Bef. 1850 Maria Herrmann #352 b. 7 DEC 1826 d. 1 FEB 1890 . . m. 23 DEC 1891 Dianna Sipe #353 b. 22 JAN 1837
. * Anna Elisabeth Hofsommer #357 b. 19 NOV 1830 - the last remaining sibling in this family group for whom we have no information on marriage, death or descendants.
. * Johannes Adam Hofsommer #358 b. 12 AUG 1833 d. 1917 m. Polly (Hofsommer) #1810 b. abt. 1842 . . m. Martha (Hofsommer) Range #1593 b. 1850 d. 1931

. * Adam Hofsommer #359 b. 23 AUG 1842 d. 24 JAN 1928 m. Susan Sonn #360 b. MAR 1843 d. JAN 1934

. * Catharine Hofsommer #361 b. 11 DEC 1845 d. 10 NOV 1888 m. William August Knies #3265 b. 24 DEC 1839 d. 14 JUN 1909

---

DESCENDANTS OF: William August Knies 10-Aug-1997 PAGE 1

* William August Knies #3265 b. 24 DEC 1839 d. 14 JUN 1909 m. Catharine Hofsommer #361 [E3346/I] b. 11 DEC 1845 d. 10 NOV 1888 . m. Elizabeth Krick #3337 b. MAY 1848

William August Knies. Married Katrina Hoffsommer in Hazleton, PA. Born December 1839 in Germany. William Knies appears twice in census. 1870 with first wife, Catherine Hoffsommer and 3 year old son William. William is listed as a coal miner from Hesse Cassel. Series 593, roll 1365, page 689. Census index also indicates a Henry 32 yrs, and a Christopher, age 30 on nearby pages. Also a William Knies age 29 listed in Carbon Coutny. Unable to find William Knies family in 1880, but 1900 he appears again with 2nd wife Elizabeth (Krick), youngest son Edward, age 15 at the time, and what looks like SS or step son Benjamin Krick, age 22 born May 1878.

William died by the next census. Having died in 1909. 1900 census location is taken from soundex. vol 122, ed 63, sht 23, line 60. Notes from G. Sweat: Shoe Business with brother Henry then same for himself opposite Central Hotel. Then Past ten years followed shoe repairing on Alter street. Private Co. F, 8th PA CAV - Civil War - enlisted in Philadelphia in 1864. 2nd marriage about 1892? Step son also named George? 1900 census indicates name is Benjamin Krick

Catharine: These notes begin with what was available prior to the awareness of the Knies connection to the Hoffsommer line.

CATHARINE HOFSOMMER...Third generation, daughter of George and Anna Elisabeth Bommhart Hofsommer, was born in Mitterode, Kreis Eschwege, Germany around 1850. As with her older brother Adam, born 7 years earlier, her inclusion in this revision is based on two of the four sources available. She is mentioned by JCH in the final birth order position and she appears in the ship's manifest. She does not appear in the 1870 census, which leads to the supposition that she may have died in between 1857 and 1870. If she appeared in the census she would have been 17 years old, still a little young to have been married. Question as to correct estimated birth year. by positing 1850 as her birth date we make her mother, Anna Elisabeth Bomhard Hofsommer 47. Not unheard of but unlikely. More pencil sharpening needed here.

Added information: August 1997. Catherine (Katarina) Hoffsommer (info entered with 2 f's). Located thru exposure on internet. Discrepancy in above information. First birth year was incorrectly given in the ship's manifest. Secondly, because the family was not picked up in the 1860 census, Catherine was missed in 1870 because she was married and had had her first child. Family notes include notice that she was born in Stadt-Hosbach, Auf-Bishausen, Kreis-Eshwege, Germany. Same birth location for Conrad Hofsommer, her nephew.

. * William Knies #3266 b. 3 MAR 1867 m. Rebekah Wagner #3270 William Knies (the younger?) #3266. notes from G. Sweat - General note, 1914 letterhead: Wm Knies/Geo A. LOarsson Knies & Larsson, Manufacturers Agts. Welty's New Idea Fountain Pen 88 VanBuren Ave, Naperville Il.
CENSUS search of 1900 in Pennsylvania came up dry. Children Myrtle Olive, Miriam Louise, Winfield Scott and Atwood Wagner all are listed as having been born either in Hazleton or down the mountain ridge at Pottsville, PA. Search was not executed in Illinois or Iowa

. . * Myrtle Olive Knies #3271 b. 16 FEB 1888 Myrtle Olive Knies #3271. b. 16 Feb 1888. Notes from H. Sweat indicate died young, Never married. no specifics

. . * Miriam Louise Knies #3272 b. 4 OCT 1889 m. Benjamin Schwab #3285 Miriam Louise Knies #3272 NOTES: Evangelical missionaries to Japan 10/12/1914 postcard - 4 of No 1 Tamachi, 8 Chonce, Shiba-Ku, Tokyo, Japan. To leave for Japan May or June 1914 - 5 or 6 year stay expected. Replaced Hofsommer family there (relatives).

. . . * Dwight Schwab #3286 b. 4 OCT 1910 d. 30 MAY 1988

. . . * Gladys Myrtle Schwab #3287 b. 2 OCT 1914

. . * Winfield Scott Knies #3273 b. 31 JUL 1892 d. SEP 1984 Winfield Scott Knies #3273 b. 31 Jul 1892 Pottsville Family notes: Dec 1948 card - Colo from Ruth, Joanne, Billy - Winfield Flagler CO per letter from wife Myrtle 12/29/1912

. . * Atwood Wagner Knies #3274 b. 23 SEP 1898 general note: died young, never married

. * George Knies #3267 b. 6 OCT 1875 m. 10 MAY 1906 Maude Elvina Dufty #3275 b. 17 JUN 1882 George Knies #3267. b. 6 Oct 1875 Hazleton. d. 19 Aug 1957 Keokuk, IA Notes from G. Sweat: throat cancer 1932. 1957 mild attack, prostate operatation, pneumonia. Married in Dufty farmhouse 3.5 miles from Kellerton IA. also worked in Shoe store, preached, clerked in hardware store.s. Business card 23 N. Centre St. Pottsville, PA.

. . * Dorothea Lavon Knies #3276 b. 13 OCT 1911 d. 18 AUG 1972 m. Paul Denton Mitchell #3288 b. 25 MAR 1919 d. 3 OCT 1990

. . * Madelene Lydia Knies #3277 living relative. details withheld m. George E. Sweat

. . . * George Lawrence Sweat #3290 living relative details withheld m. Rosa Claire Thompson

. . . . * Lawrence Alan Sweat #3297 living relative details withheld m. Laura May Weil

. . . . . * Jason Daniel Sweat #3300 living relative details withheld

. . . . . * Kristen Leigh Sweat #3301 living relative details withheld

. . . . * Lisa Ann Sweat #3298 living relative details withheld m. Timothy Mercier m. Lindsay Paul England

. . . . . * Larresa Rose Mercier #3303 living relative details withheld

. . . . . * Jessica Lynn England #3305 living relative details withheld

. . . * Herbert Arnold Sweat #3291 living relative details withheld m. Connie Marie Sachse m. Barbara Thompson

. . . . * Jason Edward Sweat #3307 living relative details withheld m. Vicki Casey #3309

. . . . . * Madeline Moira Sweat #3310 living relative details withheld

. . . . * Aaron Robert Sweat #3308 living relatiove details withheld m Rose M. Sweat #3311

. . . * Ellen Margaret Sweat #3292 living relative details withheld m. Paul Beland #3313

. . * Myrah Arlene Knies #3278 b. 15 JUN 1916 d. by 1967 m. 19 SEP 1942 Paul Denton Mitchell #3288 b. 25 MAR 1919 d. 3 OCT 1990

. . . * Denton Paul Mitchell #3293 living relative details withheld m. Elizabeth "Liz" Mitchell #3314

. . . . * Robert Mitchell #3315 living relative details withheld

. . . . . * Robert Mitchell, Jr. #3319 living relative details withheld

. . . . . * Joshua Mitchell #3320 living relative details withheld

. . . . * Chris Mitchell #3316 living relative details withheld

. . . . * Steven Mitchell #3317 living relative details withheld

. . . * Douglas George Mitchell #3294 living relative details withheld m. Diane Elizabeth Watson #3321

. . . . * Jeffrey Douglas Mitchell #3322 living relative details withheld m. Amy Jo Coldren #3324

. . . . * Shannon Marie Mitchell #3323 living relative details withheld m. Andrej Steskal #3325

. . . * David Knies Mitchell #3295 living relative details withheld m. Debbie Phillips #3326

. . . . * Sunnie Lynn Mitchell #3327 living relative details withheld m. Jeffrey Alan Lakey #3329

. . . . * Shawn Mitchell #3328





DESCENDANTS OF: William August Knies 10-Aug-1997 PAGE 3



. * Lydia Esther Knies #3268 b. 25 MAY 1878 m. 25 MAY 1905 Norman Franklin Klinger #3279 b. 18 JUN 1878 d. AUG 1967

. . * Lorraine Klinger #3280 b. 14 APR 1909 m. SEP 1932 William A. "Will" Ludmann #3330 b. 14 FEB 1909 d. 4 MAY 1995

. . . * Lorraine Ludmann #3331 b. 23 JUL 1933 m. Richard James Ross #3333

. . . * Dorothea Lavon Ludmann #3332 b. 11 OCT 1936

. * Edward William Knies #3269 b. 15 OCT 1884 m. Mayme Knies #3281

. . * Myrtle Knies #3282 m. Joseph McNally #3334

. . . * Shirley McNally #3335 b. abt 1944

. . . * Kevin McNally #3336 b. JUL 1949

. . * Warren Harrington Knies #3283 b. 5 FEB 1914

. . * Evalyn Elizabeth Knies #3284 b. 3 JAN 1916